Enjoy safe and secure travel in Kyoto
We provide useful information for avoiding congestion, by forecasting comfort levels around popular spots, real-time information from live cameras, and attractive sightseeing spots that are relatively empty even during the daytime.
Please enjoy sightseeing in Kyoto comfortably while skillfully avoiding crowded times and places.
* The degree of congestion is the number of people at a sightseeing spot indicated on a 5-point scale.
For more detailed data,
click (tap) on each area button.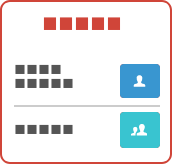 Click (tap) on each area to check the following information.
・Congestion levels by area and time of day at each location
・Real-time live streaming (limited to selected locations)
*For detailed map usage, please click

here.
*Congestion forecast results will change depending on the selected weather conditions.
*Prediction results are updated periodically and accuracy improves as the day approaches. Predicted results may change depending on the timing of viewing.